Photos of the Aitutaki and its lagoon can be used on other websites for promotion of Aitutaki with a credit to aitutakicookislands.info. Most of these Aitutaki photos are of Aitutaki's SPECTACULAR lagoon. Photos are one thing. Experiencing Aitutaki and its lagoon, another, so pack your camera and book your travel to Aitutaki now.
If you have a great photo of Aitutaki or photos of the Aitutaki lagoon, you want published on this webpage, tell us the URL and we'll use your photo of the Aitutaki lagoon to help Aitutakians with promotion of the main business on Aitutaki being tourism.
GOOGLE AT PHOTOS ON THE AITUTAKI GOOGLE PHOTO ALBUM
AITUTAKI FACEBOOK PHOTOS
You can publish Aitutaki photos on the Aitutaki Facebook Group. This includes an invitation for tourists to publish their holiday photos of Aitutaki. Once your photos are in the public domain they might be published on this photo web page.
This website is published by Ben Grummels, teacher, sailor and 10 year resident of Aitutaki. Not for profit organisations have free reprint rights to all my photos of Aitutaki.
PHOTOGRAPHIC ADVICE
Photographing Aitutaki early in the morning or near sunset provides good lighting conditions.
If taking photos of the Aitutaki lagoon and you forgot to bring your polaroid filter, then hold up clean polaroid sunglasses in front of your camera lens.
For underwater photography it's best to do that in clear water where there's plenty of live coral and other marine life. To know places on Aitutaki where the water is clear, you need to understand "Ben's law of lagoon turbidity".
New Photos of the Aitutaki Lagoon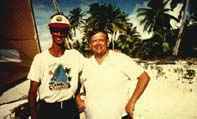 Photo of Ben Grummels and sailing companion David Lange, Aitutaki Lagoon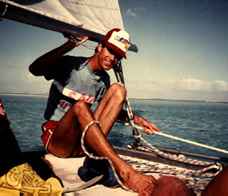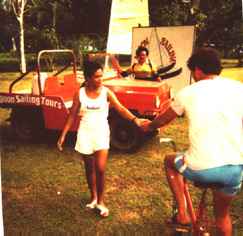 Helen and Neil Mitchell outside old Lagoon Sailing Tours office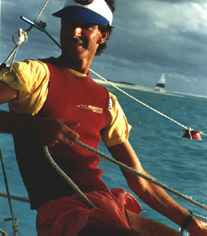 Sailing Aitutaki Lagoon near Maina in background.


IGFA record certificated for fish I caught surf casting on the barrier reef of Aitutaki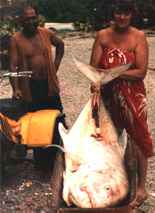 Photo of GT caught by my
Nikopara neighbour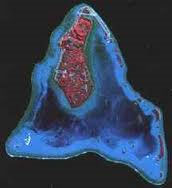 Map of Aitutaki Cook Islands
Aitutaki Cook Islands Website graphic version