Pre-historic Aitutaki Geography
The Aitutaki almost atoll formed from a volcanic eruption on the floor bed, 5 kilometres below the South Pacific ocean. After Aitutaki rose above the Pacific ocean surface, coral formed on the shores of this "high island" (Like Rarotonga is today) Weathering eroded much of the basalt rock but the reef kept building vertically from it's original position, leaving the Aitutaki lagoon between the reef and the remaining basaltic parts of Aitutaki being the main island of Aitutaki, Mutu Ropata and Motu Rakau which lay inside the Aitutaki lagoon.
Ancient History of Aitutaki
400BC - Anciant Polynesian sailors used ingenious navigation in their voyages of discovery of South Pacific Islands including Aitutaki.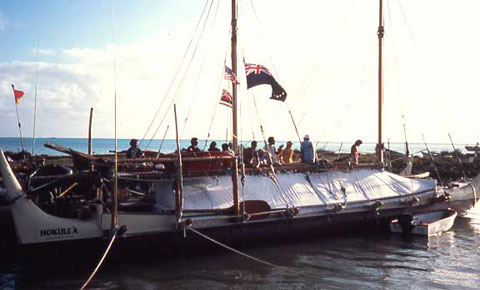 Photo of Polynesian Voyaging Society replica sailing sailing canoe, the "Hokule'a" after sailing from Hawaii to Aitutaki, Cook Islands.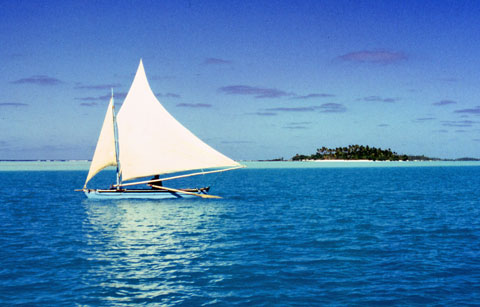 Photo of outrigger sailing canoe, Aitutaki, Cook Islands by Ben Grummels
Written History of Aitutaki
11 April (Teina's and my Birthday) 1789: Captain Bligh discovers of Aitutaki. 11 days later the lure of Polynesian hula dancers must have been one of the motivations for Fletcher Christian to lead mutiny on the Bounty in which Captain Bligh was put overboard in a long boat. The mutineers sailed the British Royal Navy ship the "Bounty" back to parts of Polynesia they had recently visited.

1800's Whalers and missionaries arrive. Cannibalism outlawed.
Recent History of Aitutaki
1943 Americans build air base on Aitutaki
1951-1960 Seaplanes (Flying boats) land on the Aitutaki lagoon for refuelling at motu Akaiami before flying to Tahiti.
1965: Self-governance in free association with New Zealand
1992 Hokule'a reconstructed ancient Polynesian voyaging canoe arrives in Aitutaki harbour from Hawaii, northern Polynesian Triangle.
1980's: Collapse of the banana growing industry. Growth of tourism. Aluminium boats mostly replace dug-out canoes.