Aitutaki Lagoon
The Aitutaki Lagoon is the jewel of the Cook Islands. Aitutaki's Lagoon is one of the most beautiful environments in the world. I worked my sailing business on the Aitutaki Lagoon for ten years.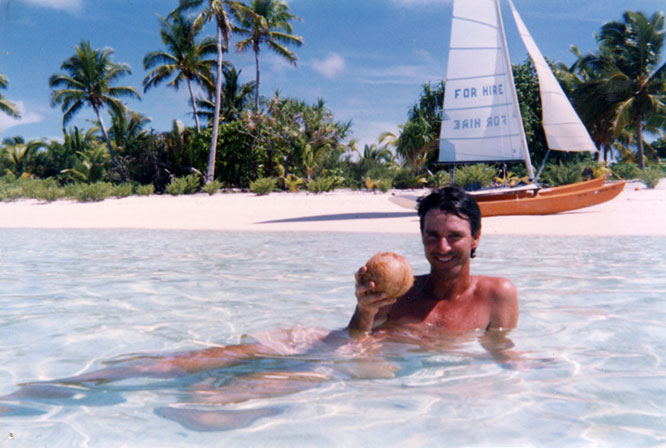 Site Published by Ben Grummels, 10 Year Resident of Aitutaki
Aitutaki, Cook Islands has the same longitude as Hawaii and the same latitude as Hawaii except south of the equator instead of North; ie similar climate of Hawaii. Aitutaki, Cook Islands is in the middle of the South Pacific Ocean and centre of the Polynesian Triangle. See Travel to Aitutaki about getting to the Cook Islands and on to Aitutaki. Photos link on the right of this webpage will show you some of the 14 uninhabited islets (motus) on the barrier reef surrounding the Aitutaki Lagoon offering some of the best beach holidays in the world. Motu Akitua near the south eastern end of the US army built aeroplane runway has a resort which I used to relief manage when my yachts operated from this 15th islet.

Snorkelling in Aitutaki Lagoon's protected water will reveal all types of living coral inhabited by spectacularly coloured tropical fish. To get full enjoyment out of snorkelling it is VERY important to understand "Ben's Law of Lagoon Turbidity". While the Aitutaki lagoon is calm, the prevailing south east trade winds do build a small swell which after a couple of days is enough to stir sediments on the leeward side of the Aitutaki island.
On these days snorkelling gets better the closer you get to the windward side of Aitutaki's triangular fringing reef, including just inside the Aitutaki's reef. One Foot Island, and Motu Maina southern reef side of Aitutaki Island are fine with the South East Trade winds This wind direction is good for standing on the northern reef of Aitutaki, casting a wind assisted fishing lure. In the wet season wind / swell directions are less predictable. A northerly wind means that snorkelling the Aitutaki barrier reef near the western end of the runway is clear visibility (low turbidity) while surf casting (fishing) from the reef is wind assisted on the southern barrier reef where the big trevalli GTs swim.

I could never understand why some tourists would fly to Rarotonga Cook Islands; then fly to enjoy Aitutaki but miss out on the best thing of Aitutaki: THE Aitutaki lagoon. Tourists who'd previously visited Bora Bora, French Polynesia's geographic version of the "almost atoll" of Aitutaki told me that Aitutaki's lagoon was just as nice but that Aitutakians were more friendly and prices were much cheaper than Bora Bora.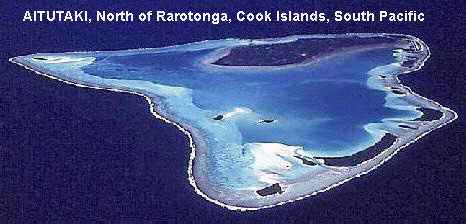 Check activities for things to do such as exploring the enchanted Chestnut forest, SCUBA diving, game fishing or climbing Munga Poo. The Polynesian people of Aitutaki are friendly and hospitable. Many still lead a subsistence life style with a small supplementary income from the hospitality industry. When I lived on Aitutaki I saw the collapse of the banana growing industry and development of tourism; income which helps Cook Islands form of Polynesian culture to continue. For example hula dancing still thrives with Aitutaki winning many national cultural competitions at Rarotonga, capital of the independent country of the Cook Islands. My favourite Cook Island's music is the "Drum Dance" Total immersive fun dancing with beautiful seductive hula girls wearing grass skirts, coconut shell bra, flower necklace and flower crowns, while a well muscled Aitutakian drumming team beat out a fantastic rhythm from their authentic pig skin and hand carved wooden drums.

Aitutaki Best beach holiday travel destinations are written by dedicated photo journalists, published and edited by the Best Beach Holidays travel writer who still thinks of Aitutaki as home. Contact Best Beach Holidays to submit your Aitutaki Island beach holiday review. Kia Manuia